A Short History of Second Breakfast
LOTRO launched on April 24, 2007, but the Crickhollow server did not come along until the game went free-to-play over 3 years later. Landroval's RP community chose this server as an RP colony where they would establish a positive atmosphere and culture before returning home. The leaders of the Lonely Mountain Band decided to set up a placeholder kinship that was to be dissolved after two weeks.
Second Breakfast was founded on September 8, 2010, the first day that the new Crickhollow server was open to former subscribers. Harperella and Tinki of the LMB, known here as Harpercricket and Dazzl, invited players who would like to provide aid and advice to the new community and welcomed everyone to share in Elevenses, which was then a daily gathering.
The kin continued to pick up new members over that first week, and Harper Cricket asked what should happen to Second Breakfast: would it reform as a new kin, several new kins, or would it become a kin of its own under the leadership of Crickhollow members. Sadie posted the following reply:
At the thought of losing Second Breakfast, I had to officially hang up my "lurker" hat.
Harper has made a wonderful home for many of us that seems to resonate with a lot of players on Crickhollow - new and old. I put my two cents in to ask that it be retained in some form or fashion and offer my aid in anyway needed to keep it alive.
And Buddy followed with this:
Harper, we all thank you for supplying the "seed" which is growing into Second Breakfast. You might not see all of what we, who are currently making Crickhollow and Second Breakfast our permanent home, are doing. We are building relationships. We are adventuring together. We are building community.

We love you as our "Landy Godmother" and will always accept your advice and assistance and are wanting to use what you have started as a basis to grow from.

We aren't asking you to come to Crickhollow full time and be a 24/7 Kin Leader. We are willing to try that. We aren't asking you to plan a complete event calendar for us. We are willing to try that. We would like you to be a part of it.

What we are asking for is the chance to use what you have given us and let us grow. We are like a flower garden. You planted the seed. Now, you can sit back and watch us grow and bloom (with a little fertilizer or weeding as needed).

I'm beginning to ramble so my vote is for a fourth option...

4) Second Breakfast remains and is allowed discover its own place and purpose.
With that, Sadie became our new leader and Buddy the successor. A group of officers came together to determine what we would be as a kinship and how we could help shape this new server. We continued to serve Elevenses every night and found new friends and allies. The Breakfast Club came together for their first performance at our first major server event: Ghosts, Goosebumps and Graveyard Tales. We also held many kin gatherings and instance runs.
We added more fellowship runs & festivities as we moved into 2011. The kin and allies went to Helegrod, Ost Dunhoth, the Rift, and more. We looked forward to activities like Daisygold's chicken runs and fashion show, Kraag's tales, Jancis's many wonderful slayer deed events, Butternut's crafting fair, and Sapphiria & Bugo's wedding. Friends around Crickhollow gathered with us for holiday celebrations including a Valentine's Day Early Elevenses, St. Patrick's Day party (which later became our annual Bullroarer Took Day Pub Crawl), Memorial Day Cookout, Midsummer's Day Festival (this included our first theatrical production and a true star turn from Balechney), a ride to visit Frodo & Bilbo on their birthdays, the return of our Halloween event, and our Yulefest Ball, Hrivelenta. In the fall our kinmother, Sadie, had to step down and Buddy stepped up to lead the kinship into our second year.
Breakfast Club performed at Weatherstock III and formed again when Ales & Tales came to our server. Daffin decided that the band should have a permanent presence, so the band started holding weekly practices. This lead to performances at Hrivelenta and Weatherstock IV. Occasional concerts eventually led to a weekly show at the Bree South Gate. The band would go on to perform at many festivals and events on Landroval, Laurelin, and Gladden. No band has logged more Weatherstock performances.
Buddy and Rosalie traded leadership around a couple of times over the next two years when the ultimate villain, real life, reared its ugly head. Daisygold lead sojourns to Forochel and Moria while Jancis added TP farming runs. Hybris, Kyma, Turindoc lead instance runs. Daffin put together his first Rallies in the Shire and Ered Luin, as well as a screenshot scavenger hunt. Rosie's events included Derby Day, the Memorial Day Cookout, Parade of Homes, and the Last Homely House Party. Larksong helped us transition into a more manageable twice a week Elevenses schedule and introduced an event that would come to define Crickhollow: Bread and Jam Sessions. Bread & Jam has lead to the formation of a stunning number of bands.
The kin held numerous lotteries, contests, and a holiday gift exchange. House foreclosures meant that we could finally completely take over the Greyheight neighbourhood. And Merbry. And later Thatchacre. This helped crafting take center stage, as we brought back the crafting fair, held a gathering contest, and expanded our crafting warehouse from an entire kinhouse to an entire neighbourhood. The kin toured the new Greyheight houses during A Moveable Feast. We celebrated our third anniversary and that of Crickhollow and our allies at Seeds & Stems with an event in Bree, and joined our friends in Riders of Ravencrest for a Watcher raid. The Halloween event moved out to the Shire and became the Haunted Hill, and the Yule event moved to Ered Luin and was reborn as the Winter Carnival.
Ajarel and Laurinda started putting on unforgettable events shortly after joining the kin, such as Feasts and Guardians, Elven Annoyance, Hide and Seek, and skirmish nights. Later, Everbrock would join us and planned a burrow-warming party. Banadoc led us through some raid deeds. Many members joined the server's efforts to Take the Hobbit to Isengard. We continued many of the activities and events we'd held in the past, like the Bullroarer Took Day Pub Crawl, Bree-land Rally, Mid-year's Day Festival, Anniversary Party, and the Haunted Hill. We finished out the year with the Winter Carnival (including a play from Twynk) and kin holiday party with wassailing. But 2014 also marked the start of what would become a signature event for both the kin and the server: Shirefest. Landroval's Keli (Blondel here) and Lilikate joined Larksong and Daffin in bringing Rosalie's crazy vision to life. We welcomed 12 bands, and to our surprise people showed up from all over the game!
In 2015 Larksong took over the reins of leadership. Daffin lead Roving Threats Night, Scropolo brought back chicken runs, and Finarphin started horse races that Gingerbreadlass simply dominated. While we planned a very ambitious 4 day, 28 performer Shirefest the entire game was rocked by news of server consolidations. We breathed a collective sigh of relief when we saw that Crickhollow was indeed safe, but knew that it would mean many others would have to move. We were happy to provide a new home to those who joined our kin and our server, and Crick has been enriched by the addition of many great players, kins, and bands, including our allies in QuendeNosse. Jancis organized road trips to the remaining servers where we set up world domination on every corner of the LOTRO globe. We celebrated our five year anniversary with a poem and a video presentation. At the end of the year, Finarphin became our first non-hobbit leader. Hurrah for diversity hires! As Drummor he led the expansion of Shirefest into the Yule season with our first Winterfest.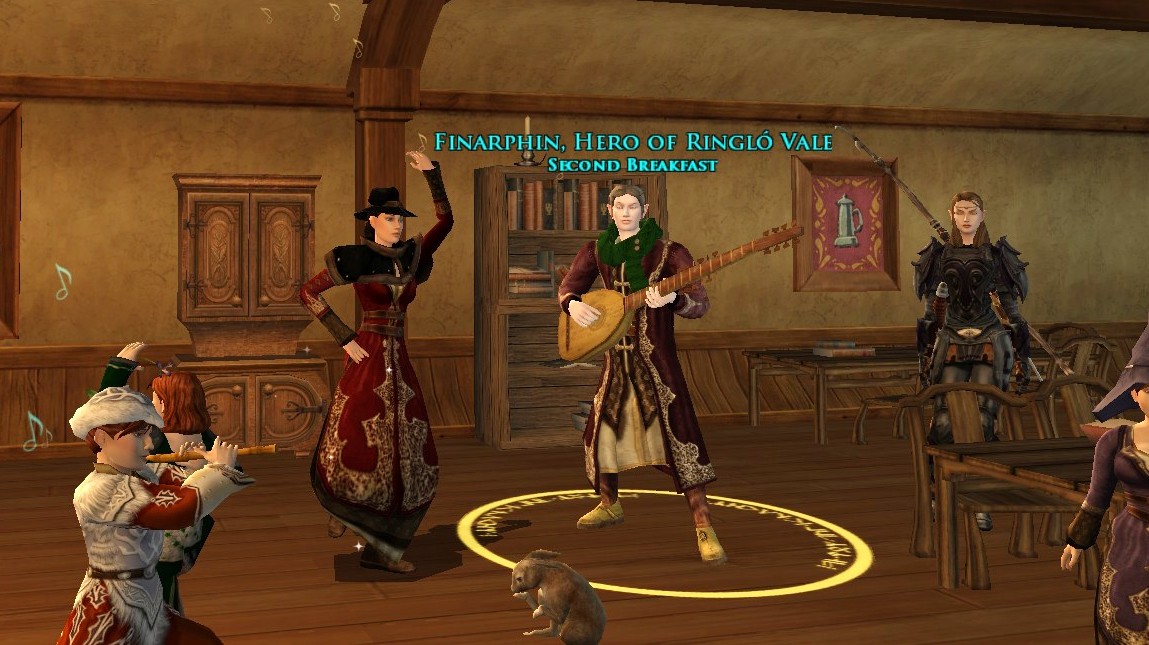 The hobbits did snag Finarphin's alt, Applemilkshake, as the first leader of the Appledumpling Gang, an infamous group of vagabonds who combat evil together. Luventhariel and Ristion would eventually bring the Gang back under the guise of Appletart and Appleschnaps. Pontin introduced Midweek Tunes & Ales and the Drunken Horse Race. Beliaveil took us back to our old RP roots with Tolo Imladris and other elven RP. Bread & Jam celebrated 4 years of music and tales in the Pony. Shirefest and Winterfest returned to great success as our tent-pole events. The Crickhollow music scene has exploded in popularity since Breakfast Club's first sparsely attended practices on the kinhouse lawn.
2017 was another great year for Second Breakfast. The calendar was busier than it ever has been. We had an active creepside tribe for the first time and a static group running again 6 years after the Half Pints disbanded. Because we only ever figured out how to pass leadership around when real life intrudes, Rosalie temporarily took over leadership when Drummor got busy and Willowing once again took on the permanent role.
2018 is off to a wonderful start. There's much to celebrate in the past, but tons to look forward to as we eye our 7th year together. Here's to everyone who has made this kinship so special!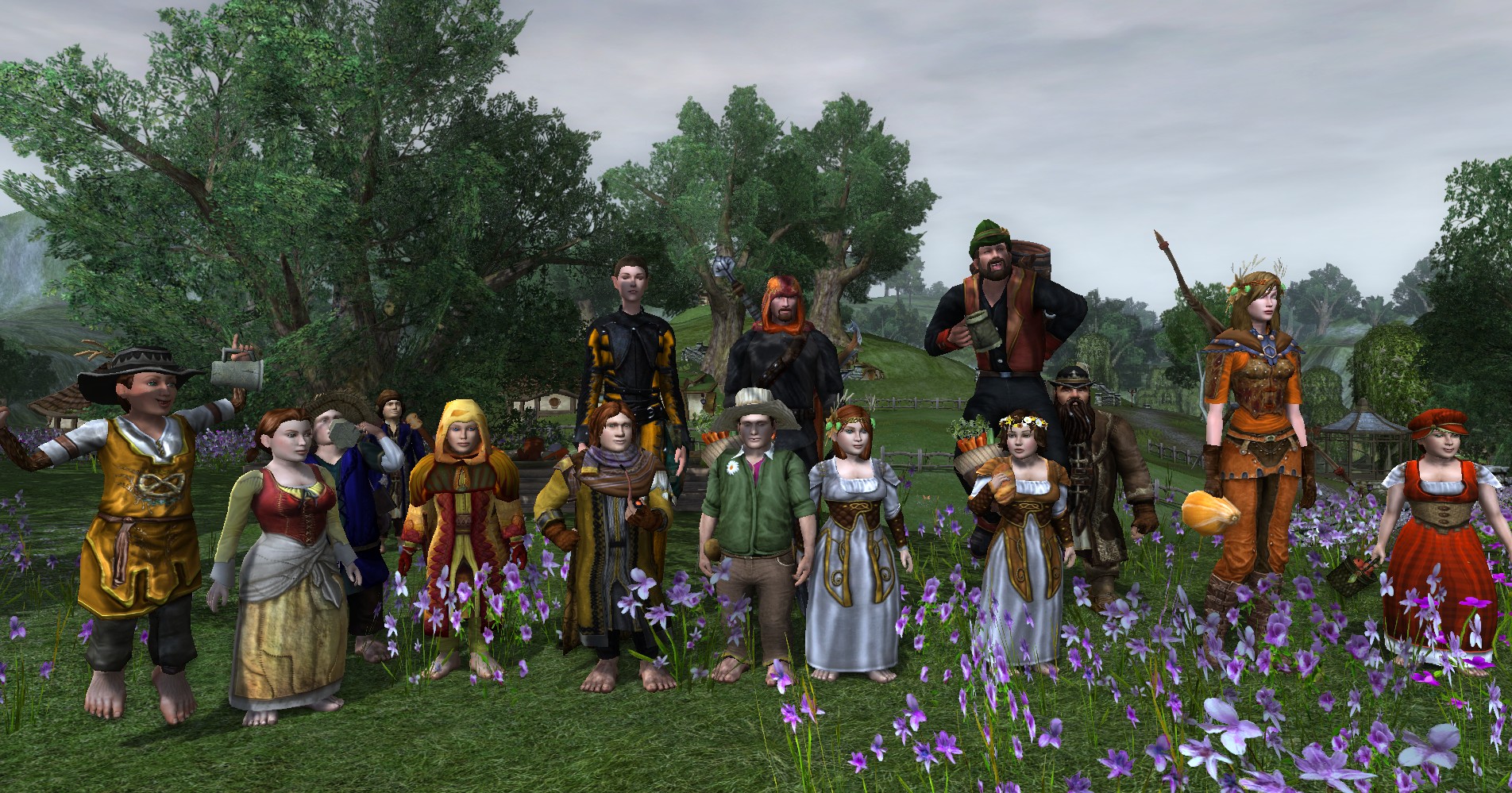 In 2019 we lost our dearest friend Rosalie and had one last party with her, and continued doing our yearly events as she wanted such as Shirefest in july and winterfest in december.
2020 was off to a great start, we did our first Rosaile Day event to remember by, idea was made by Brigo Halefoot in 2019.